Paintings From Debby Faulkner-Stevens
Debby Faulkner-Stevens has painted since 1978, gaining a large following for her intricate illustrative watercolours, including Stevie Nicks of Fleetwood Mac. Debby was elected a member of the Society of Women Artists. In 2000 she was presented with the Alexander Gallery award and in 2004 was elected to full membership of the Royal Society of Miniature Painters and Gravers. March 2003 saw her win the HRH Princess Michael of Kent Award for the 'Most Outstanding Watercolour'.
'I see a cat'
Watercolour by Debby Faulkner-Stevens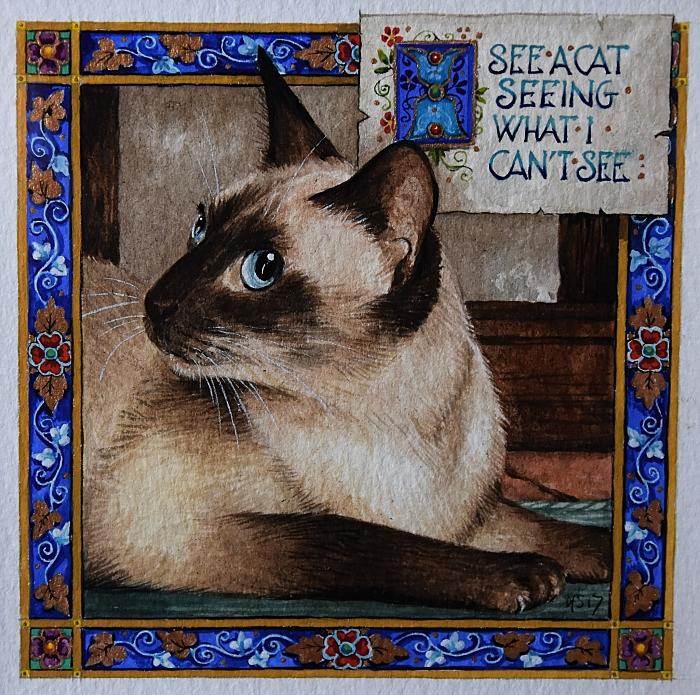 "I see a cat"

Watercolour, priced at £460.00 by Debby Faulkner-Stevens. Approx. 8.5 cm by 8.5 cm
Now In Stock For Immediate Delivery Free Shipping In UK
'Live with me' inspired by Robert Herrick
Watercolour by Debby Faulkner-Stevens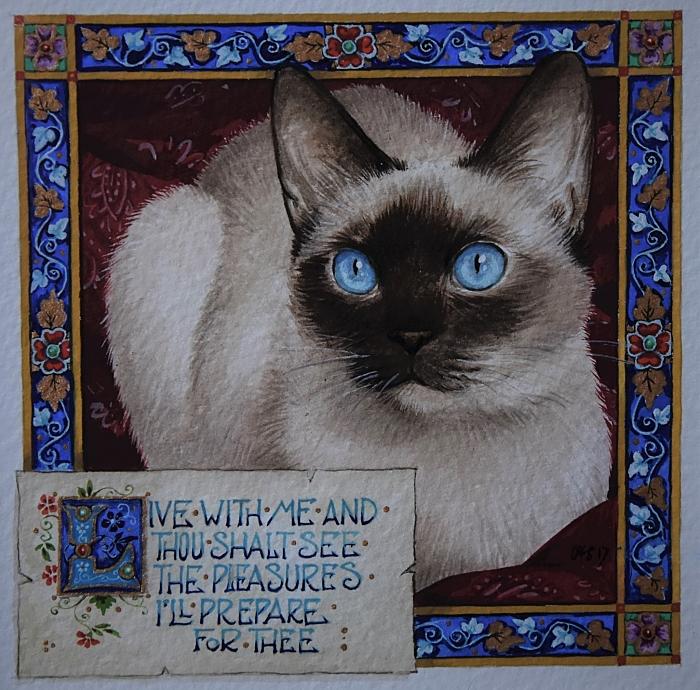 "Live with me" To Phyllis Robert Herrick

Watercolour, priced at £460.00 by Debby Faulkner-Stevens. Approx. 8.5 cm by 8.5 cm
Now In Stock For Immediate Delivery Free Shipping In UK
'The Nearest Kin To The Moon'
Watercolour by Debby Faulkner-Stevens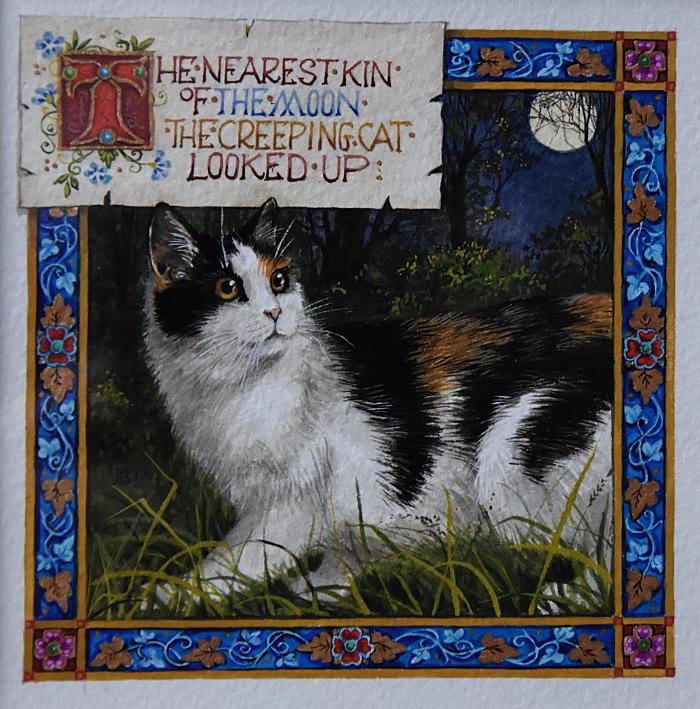 "The Nearest Kin To The Moon" The Cat and the Moon by W.B. Yeats

Watercolour, priced at £460.00 by Debby Faulkner-Stevens. Approx. 8.5 cm by 8.5 cm
Now In Stock For Immediate Delivery Free Shipping In UK
'Pussycat Pussycat'
Watercolour by Debby Faulkner-Stevens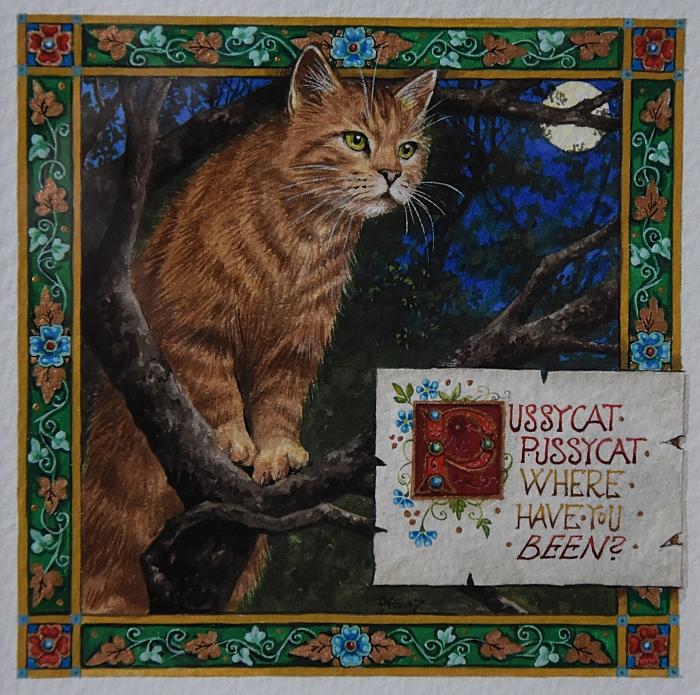 "Pussycat Pussycat''
Watercolour, priced at £460.00 by Debby Faulkner-Stevens. Approx. 8.5 cm by 8.5 cm
Now In Stock For Immediate Delivery Free Shipping In UK
'The Darkling Thrush' Art inspired by Thomas Hardy
Watercolour on Vellum by Debby Faulkner-Stevens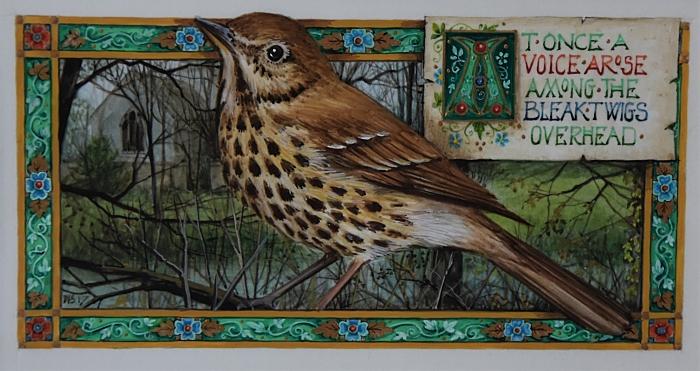 "The Darkling Thrush''
Watercolour on Vellum, priced at £450.00 by Debby Faulkner-Stevens. Approx. 10 cm by 5 cm
Now In Stock For Immediate Delivery Free Shipping In UK
Self-Unconscious 'Bright Yellowhammers' Art inspired by Thomas Hardy
Watercolour on Vellum by Debby Faulkner-Stevens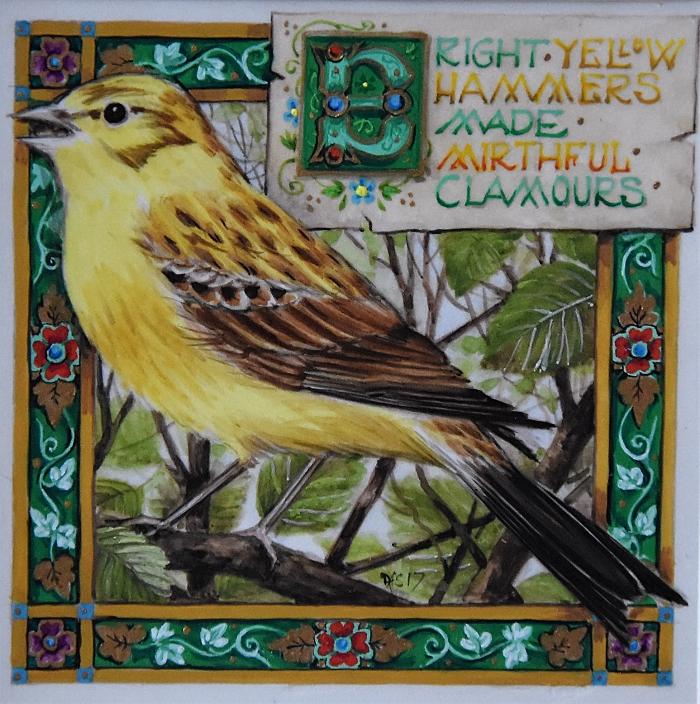 "Bright Yellowhammers''
Watercolour on Vellum, priced at £295.00 by Debby Faulkner-Stevens. Approx. 5 cm by 5 cm
Now In Stock For Immediate Delivery Free Shipping In UK
Winter in Durnover Field 'Throughout the Field' Art inspired by Thomas Hardy
Watercolour on Vellum by Debby Faulkner-Stevens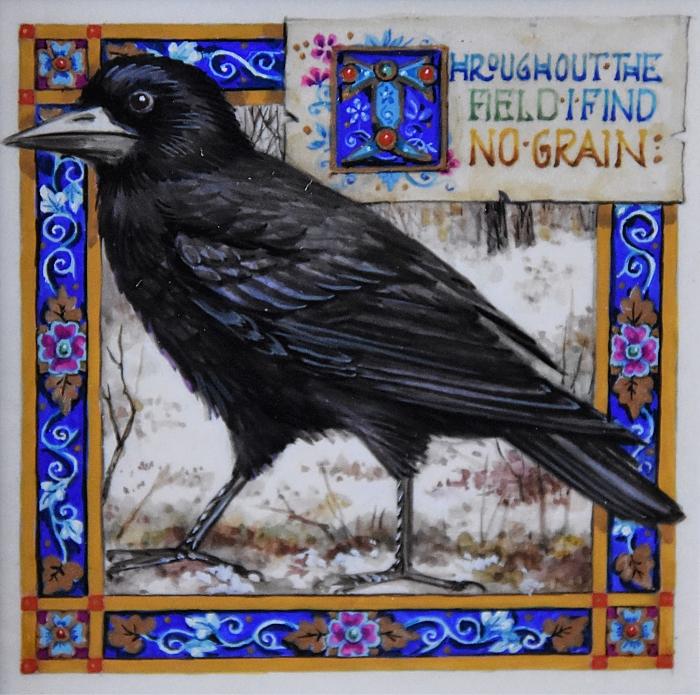 "Throughout the Field''
Watercolour on Vellum, priced at £295.00 by Debby Faulkner-Stevens. Approx. 5 cm by 5 cm
Now In Stock For Immediate Delivery Free Shipping In UK
Squirrel 'Ivy-spun Halters' In a Wood inspired by Thomas Hardy
Watercolour on Vellum by Debby Faulkner-Stevens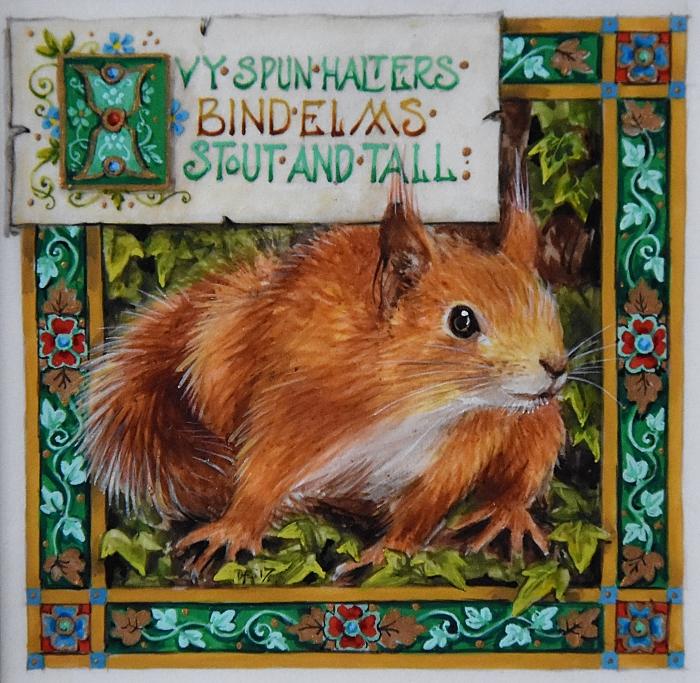 "Ivy-spun Halters''
Watercolour on Vellum, priced at £295.00 by Debby Faulkner-Stevens. Approx. 5 cm by 5 cm
Now In Stock For Immediate Delivery Free Shipping In UK
'To be fond of dancing' Pride and Prejudice inspired by Jane Austen
Watercolour by Debby Faulkner-Stevens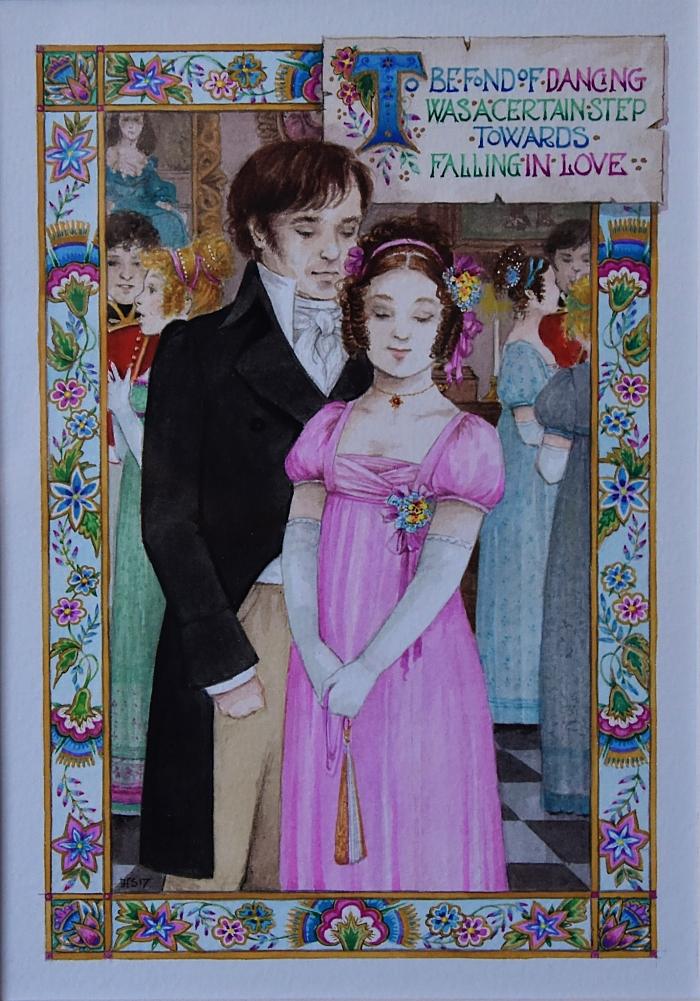 "To be fond of dancing''
Watercolour on paper, priced at £450.00 by Debby Faulkner-Stevens. Approx. 10cm by 15cm
Now In Stock For Immediate Delivery Free Shipping In UK
'They returned in good spirits' Pride and Prejudice inspired by Jane Austen
Watercolour by Debby Faulkner-Stevens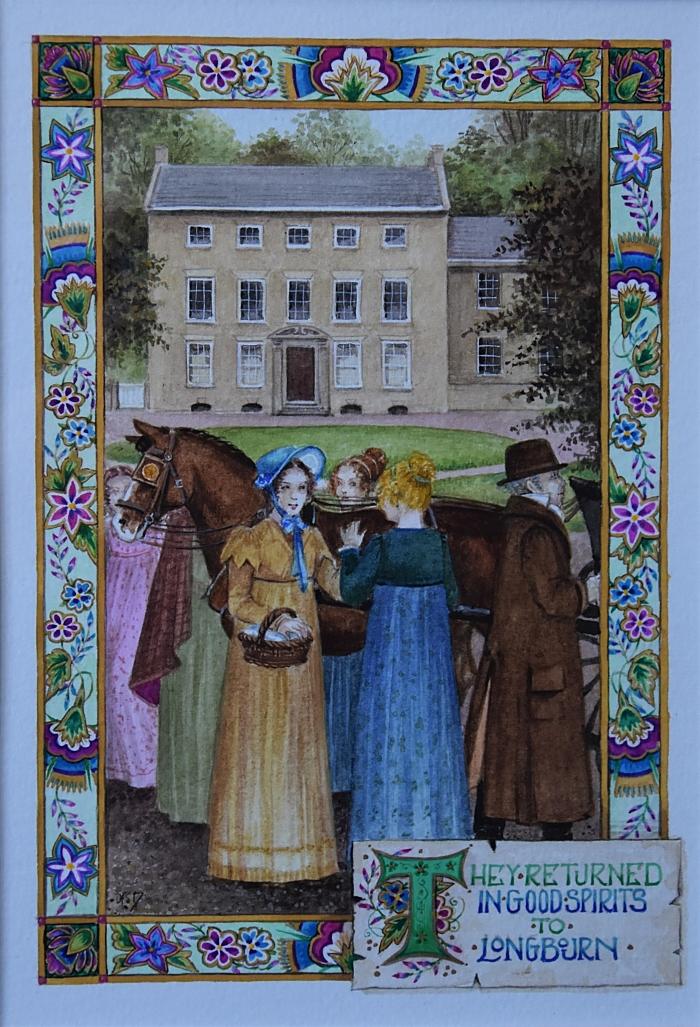 "They returned in good spirits''
Watercolour on paper, priced at £450.00 by Debby Faulkner-Stevens. Approx. 10cm by 15cm
Now In Stock For Immediate Delivery Free Shipping In UK
'Sleeping Beauty' inspired by Charles Perrault
Watercolour by Debby Faulkner-Stevens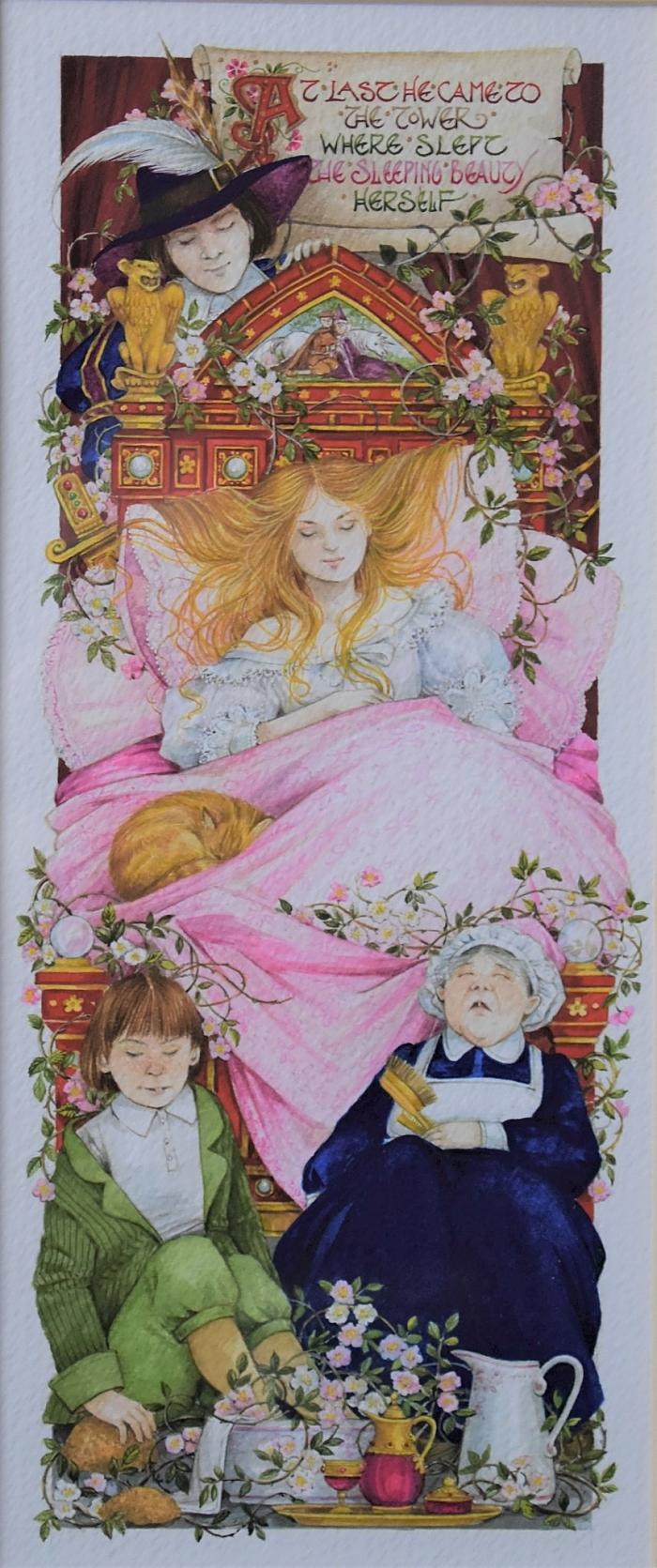 "Sleeping Beauty''
Watercolour on paper, priced at £852.00 by Debby Faulkner-Stevens. Approx. 9cm by 24cm
Now In Stock For Immediate Delivery Free Shipping In UK
'Cold is the night when the stars shine bright'
Watercolour by Debby Faulkner-Stevens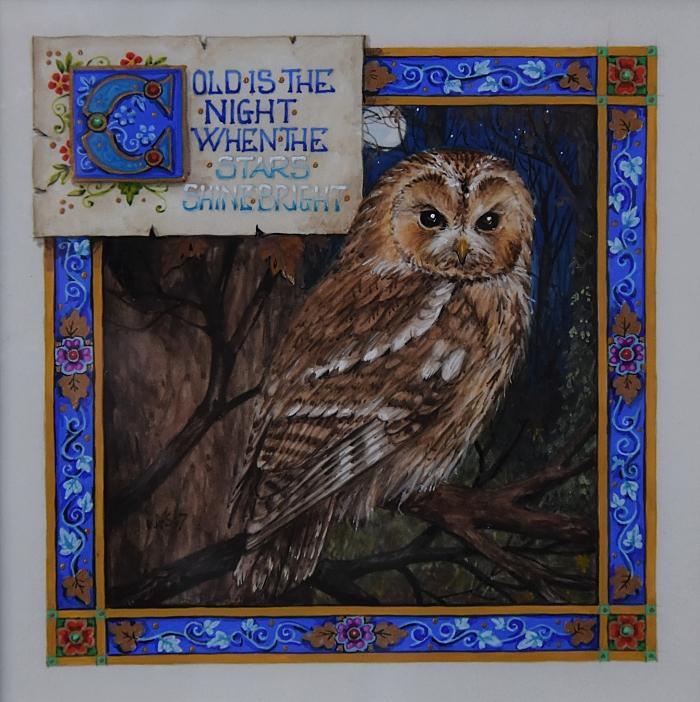 "Cold is the night''
Watercolour on vellum, priced at £470.00 by Debby Faulkner-Stevens. Approx. 7.6cm by 7.6cm
Now In Stock For Immediate Delivery Free Shipping In UK
'Under the Greenwood Tree' inspired by William Shakespeare
Watercolour by Debby Faulkner-Stevens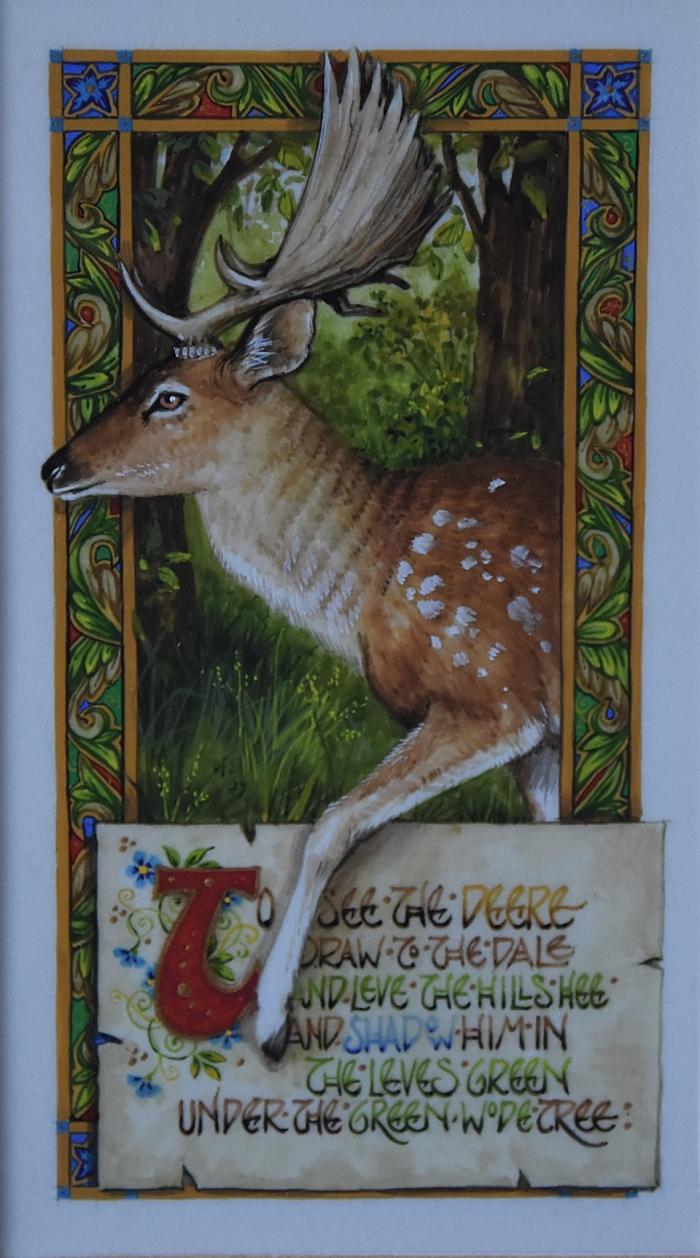 "Under th Greenwood Tree''
Watercolour on vellum, priced at £495.00 by Debby Faulkner-Stevens. Approx. 5 cm by 10 cm
Now In Stock For Immediate Delivery Free Shipping In UK
'Confound the Cats' Inspired by Orlando Thomas Dobbin
Watercolour by Debby Faulkner-Stevens

"Confound the Cats''
Watercolour on paper, priced at £852.00 by Debby Faulkner-Stevens. Approx. 8.5cm by 24cm
Now In Stock For Immediate Delivery Free Shipping In UK
'Night Listens' Lion Inspired by Lord Byron
Watercolour by Debby Faulkner-Stevens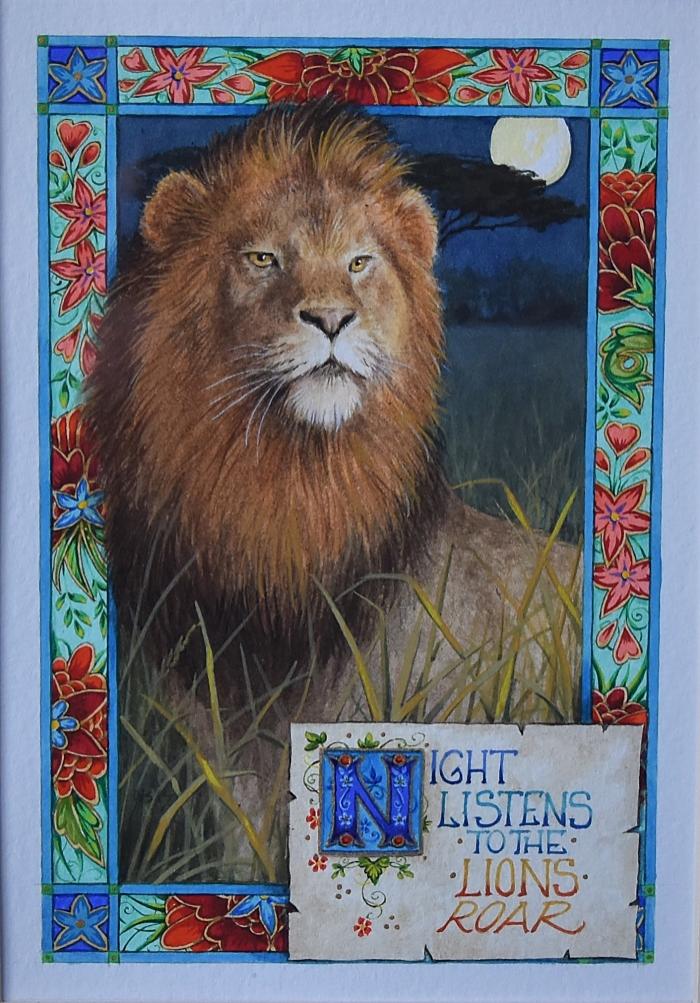 "Night Listens''
Watercolour on paper, priced at £450.00 by Debby Faulkner-Stevens. Approx. 10cm by 15cm
Now In Stock For Immediate Delivery Free Shipping In UK
'The Creature Has a Purpose' Tiger Inspired by John Keats
Watercolour by Debby Faulkner-Stevens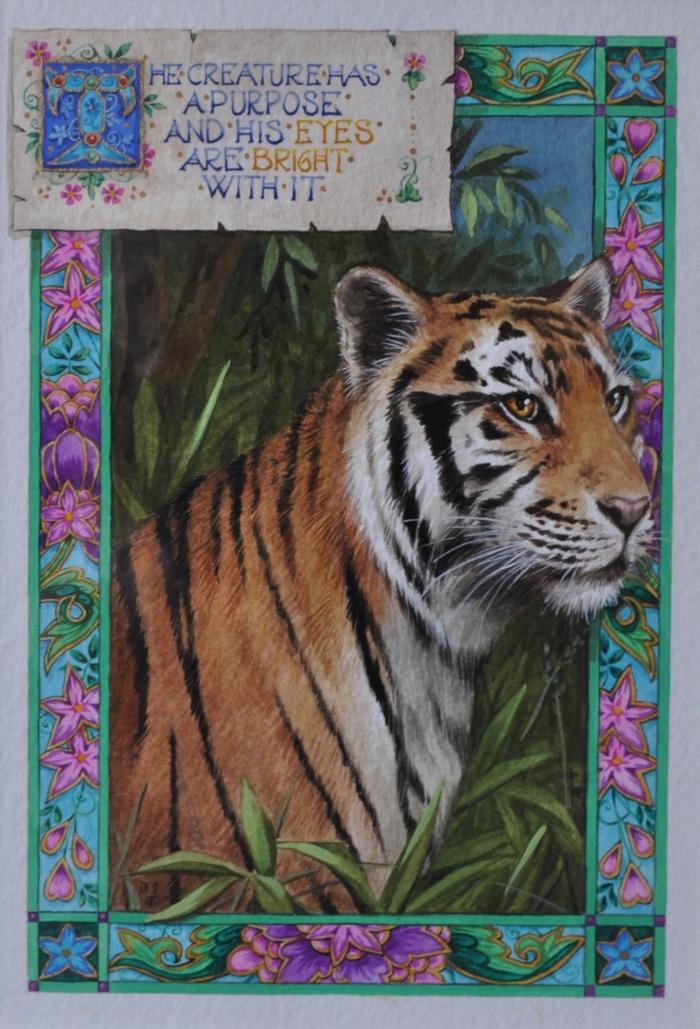 "The Creature Has a Purpose''
Watercolour on paper, priced at £450.00 by Debby Faulkner-Stevens. Approx. 10cm by 15cm
Now In Stock For Immediate Delivery Free Shipping In UK
Mustardseed A Midsummer Night's Dream
Watercolour by Debby Faulkner-Stevens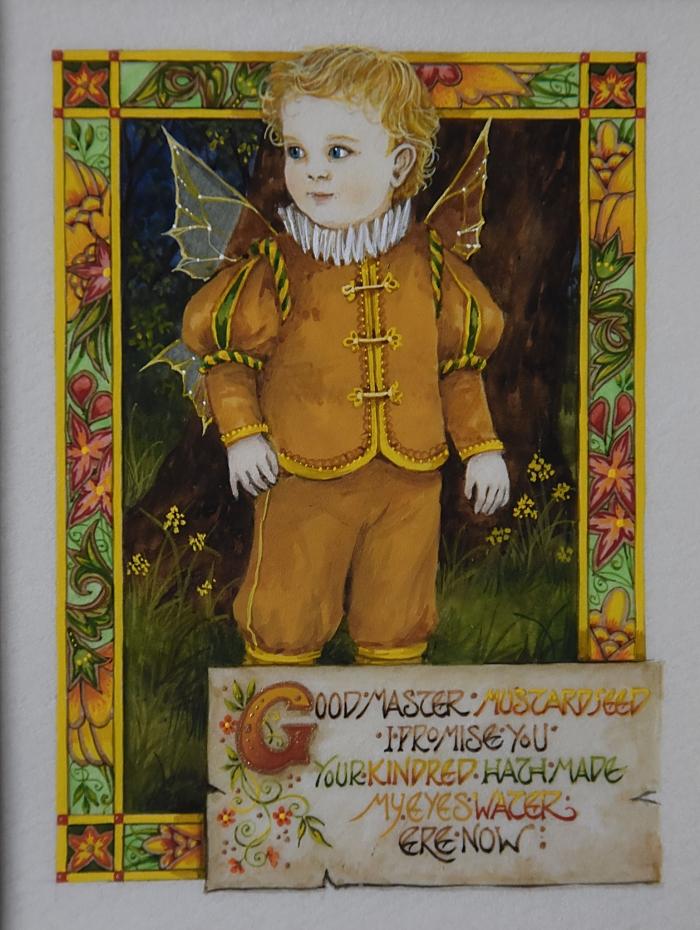 'Mustardseed' watercolour on vellum, priced at £595.00 by Debby Faulkner-Stevens. approx. 6cm by 9cm
The Rich Blackbird by John Clare
Watercolour by Debby Faulkner-Stevens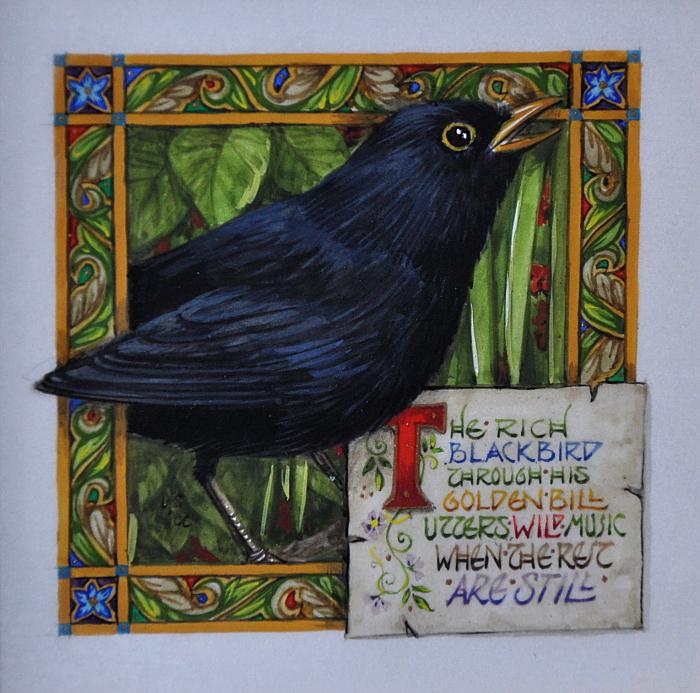 "The Rich Blackbird''
'And the rich blackbird, through his golden bill, Utters wild music when the rest are still'
Watercolour on vellum, priced at £275.00 by Debby Faulkner-Stevens. Approx. 5cm by 5cm
Now In Stock For Immediate Delivery Free Shipping In UK
Jabberwocky by Lewis Carroll
Watercolour by Debby Faulkner-Stevens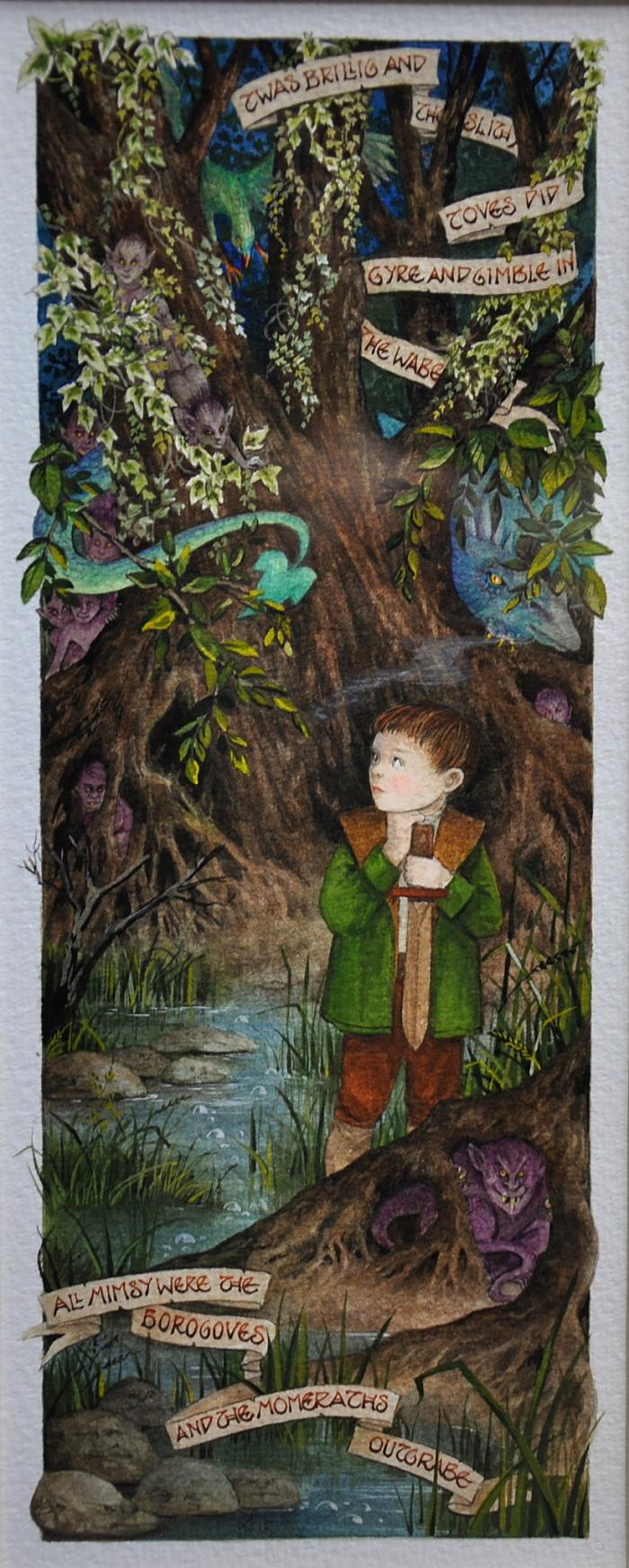 "Jabberwocky''
Watercolour on paper, priced at £840.00 by Debby Faulkner-Stevens. Approx. 8.5cm by 24cm
Now In Stock For Immediate Delivery Free Shipping In UK
'Time Is Slow For Those Who Wait' by Debby Faulkner-Stevens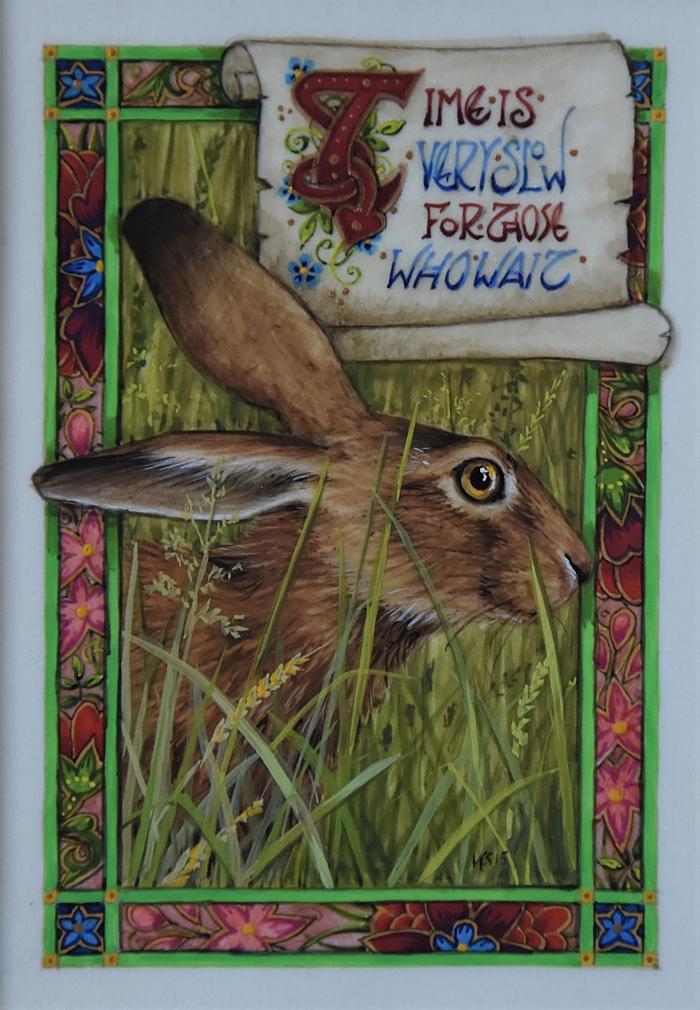 '
Time Is Slow For Those Who Wait
'
Watercolour on vellum, priced at £425.00 by Debby Faulkner-Stevens. approx. 5cm by 7.5cm
Now In Stock For Immediate Delivery Free Shipping In UK
Splendid Masquerade Inpired by John Clare by Debby Faulkner-Stevens

'Splendid Masquerade' watercolour on paper, an illustration of the poem 'Insects' by John Clare, priced at £852.00 by Debby Faulkner-Stevens. approx. 9cm by 24cm
Peaseblossom by Debby Faulkner-Stevens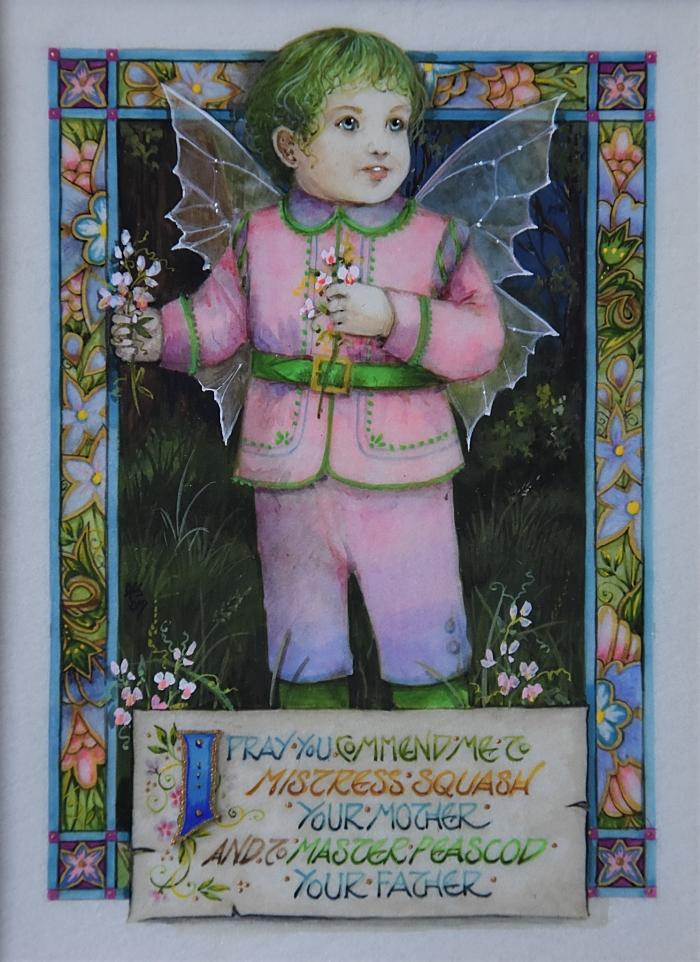 'Peaseblossom' watercolour on vellum, priced at £595.00 by Debby Faulkner-Stevens. approx. 6cm by 9cm
A Cat is a Work of Art by Debby Faulkner-Stevens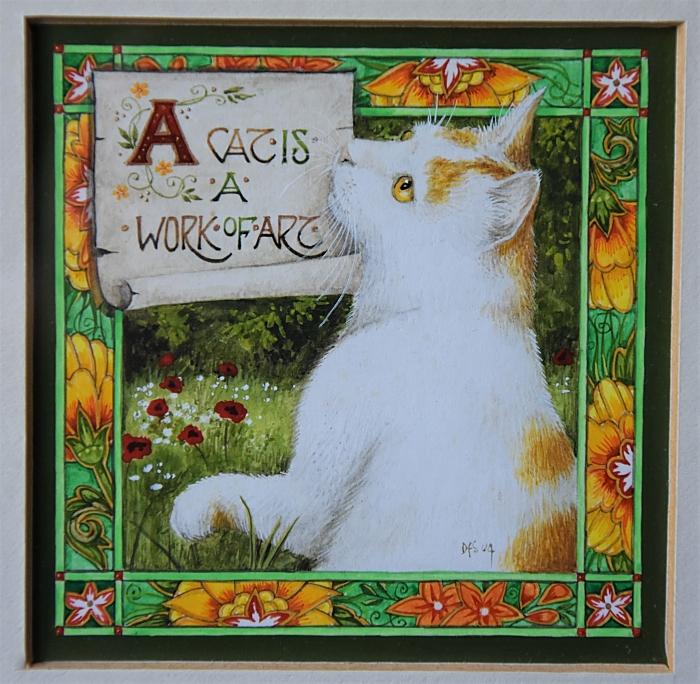 A Cat is a Work of Art watercolour on vellum, priced at £275.00 by Debby Faulkner-Stevens. approx 7cm by 7cm
Pheasant by Debby Faulkner-Stevens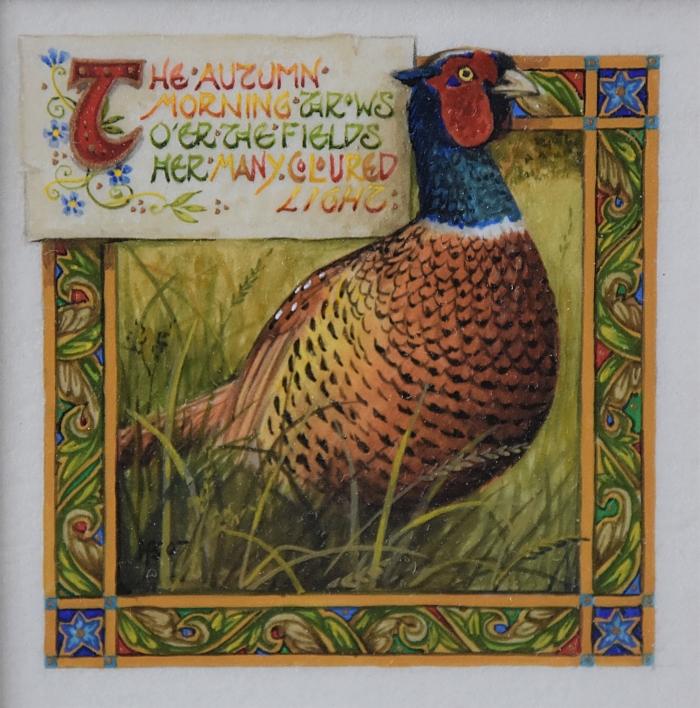 Pheasant watercolour on vellum, priced at £259.00 by Debby Faulkner-Stevens. approx 5cm by 5cm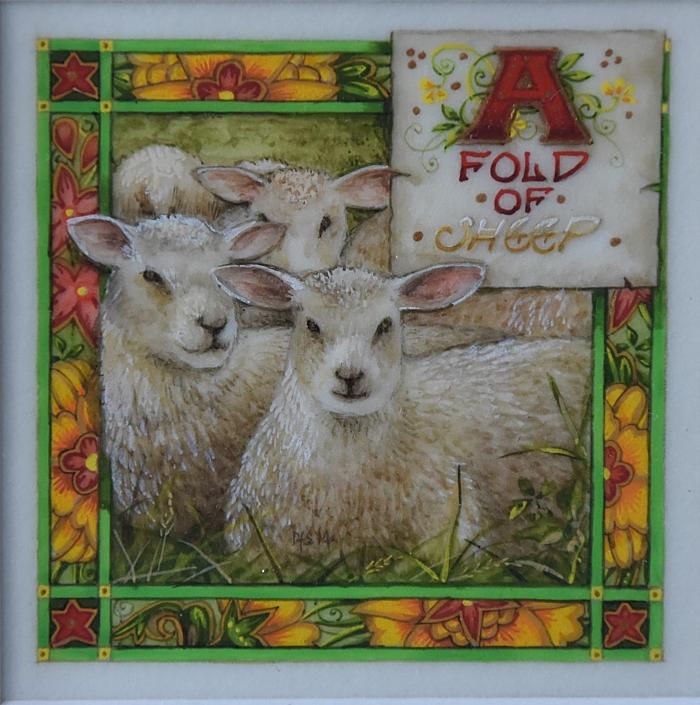 'A Fold of Sheep' watercolour on vellum, priced at £230.00 by Debby Faulkner-Stevens. approx. 5cm by 5cm
Debby Faulkner-Stevens' Literary Cats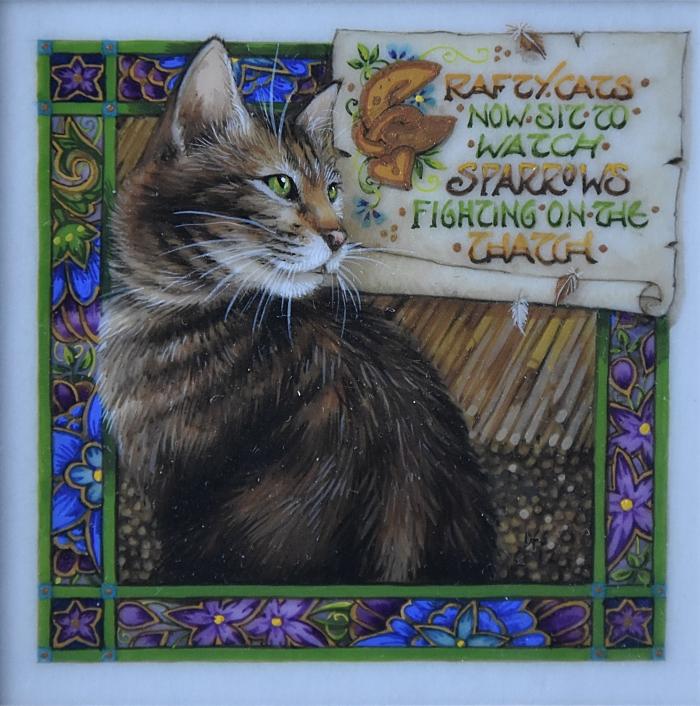 'Crafty Cats' an original watercolour on vellum by Debby Faulkner-Stevens
5cm by 5cm priced at £295.00
'Far As Creation's' Alexander Pope by Debby Faulkner-Stevens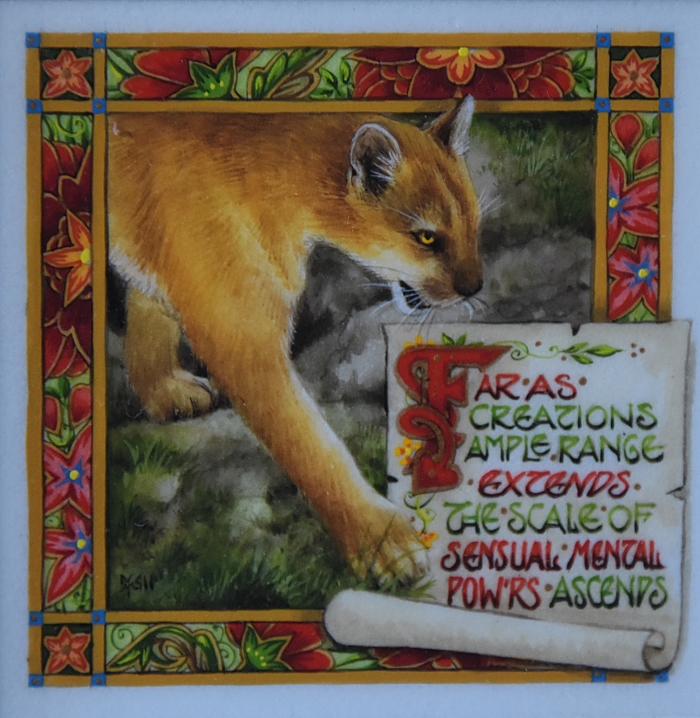 'Far As Creation's' Alexander Pope by Debby Faulkner-Stevens
'Far As Creation's' 5cms X 5cms, watercolour on vellum priced at £275.00